Floor cleaning is a never-ending task. You need to make sure you do it right because it's one of the most significant maintenance tasks in a facility or else you will find that your facility has not been as clean as it could be.
Cleaning the floors is essential for health and safety. It not only protects the floor but also makes it look neat and tidy. Sanitizing the floor with an effective floor cleaning solution kills germs on the floor and enhances the atmosphere.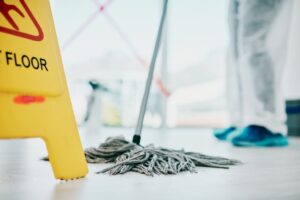 The disinfectant kills the viruses present on the floor surface and protects us from becoming ill. A clean floor offers us long-term benefits. A messy and dirty floor can lead to an accident.
This blog will cover 9 key things that you need to know about floor cleaning.
Get a FREE consultation to reduce your Facility Cost
What is floor cleaning?
A floor cleaning operation is the process of cleaning the floors of production areas within a facility.
What is the best way to clean floors?
Make sure you pay attention to the surface you are cleaning. This will prevent damaging it. Knowing what material, you have to deal with makes cleaning laminate floors, ceramic and quarry tiles, terracotta tiles, and wooden floors easier.
Floor cleaning professionals follow a detailed procedure. The first step is to vacuum the floor to remove any dust and dirt. Afterward, the stain is removed by mopping. After that, your floors are thoroughly cleaned by steam. Drying your floors is the final step. Once it's done, you can clearly see the difference between your tiles.
How much does a floor cleaning cost?
The cost of cleaning floors may vary depending on the type of flooring. The cost of each type of floor is different and it is calculated by square feet. According to industry standards and local market conditions, the price of floor cleaning is calculated.
Also Read: What will it Cost to Hire a Cleaning Services?
Why is professional floor cleaning a necessity?
Let's say your facility is visited for the first time by a visitor. First and foremost, they will notice the cleanliness of the flooring.
Regardless of how much care you put into other elements of your facility, dull, stained, or worn flooring can detract from your building's image. A perfectly maintained lobby with beautiful plants, sparkling clean glass doors, and windows, but poorly maintained floors will catch your customer's eye in the first place.
What are the benefits of floor cleaning?
Maintaining a clean floor has numerous aesthetic and health benefits.
Aesthetic Benefits
Cleaning your floors will give your home a relaxing feel while a dirty floor causes irritation.
The facility becomes more appealing.
It provides a fragrant and fresh look to the facility.
This gives the impression that the facility is much larger than it really is.
Clean floors prolong the life of carpets and rugs.
Hardwood floors are more likely to last if they are cleaned regularly.
Health Benefits
Many accidents can occur as a result of an unclean floor. These accidents range from fatalities to minor incidents.
The general well-being of occupants can be enhanced by a clean floor. Fewer germs mean less illness.
Clean floors are ideal for workouts. They provide a conducive environment for yoga.
It helps to promote a healthy environment in the home or office of the people living or working there.
What cleaning products to use on floors?
The rate of pollution is on the rise every day. Consequently, it is crucial to ensure that the facilities are secured in every way. The floors must always remain clean and fresh for this reason. Generally, the floor was mopped with water, but eventually, this was not effective in protecting the room against dirt and germs. In order to tackle this problem, some high-quality floor cleaners have been developed that are quite effective at cleaning floors.
Either Taski's all-purpose cleaner or a biodegradable cleaner (Eco-friendly cleaning chemicals) can be used to clean floors. Among its many uses are cleaning floors, cleaning glasses, cleaning utensils, etc. The solution is perfect for cleaning floors and for cleaning glass. The brand is very reputable in the industrial cleaning industry. We recommend you to use this product at hotels, corporates, industrial, and hospitals.
When should floor mopping be performed?
Those areas with a lot of traffic need to be mopped most often. Entrances, kitchens, bathrooms, and hallways receive the most traffic. Wet mopping is recommended once a week in any high-traffic areas of your home.
Those rooms in your facility that aren't used frequently, like the guest room, do not require weekly mopping. A once-a-month clean-up is sufficient.
Which are the best floor cleaning mops?
With the new mop, mopping hard floors has never been easier and more efficient. Typically, these use micro fiber  cloths that can catch a lot of dirt and grip it, so you can do the job faster.
Many of these mopping systems are self-wringing, others can be used both for wet and dry mopping, while others have telescopic handles which can be shortened or extended based on your height. Additionally, spray mops can be useful since they eliminate the need for a bucket.
It is easy to find a variety of mops on the market, but if you wish to effectively clean your floor, you should opt for a high-quality mop.
Here are some of the preferred mops used by floor cleaners:
Flat mop: The flat mop is a good type of mop for floors with vinyl or hardwood since they don't use a lot of water.
Sponge mop: A sponge mop is effective for spills. Due to its super-absorbency, it is perfect for all types of spills.
Dust mop: The purpose of a dust mop is to clean dust. Dust mop can be used to remove dust and debris on the ground.
String mop: There are many types of mops, but a string mop is the most common and it comes with a bucket where the washing liquid is stored and that is used to wring out the mop.
Strip mop: The strip mop can be used either wet or dry. They are useful for dusting when dry. Dust is easily removed from surfaces without spreading around.
Steam mop: Steam mops emit steam to facilitate cleaning your floors of the gunk that has built up.
Spin mop: It is easier to wring out the water in a bucket by using a spinning function. If you are having trouble getting out stubborn stains, you can manually spin the mop instead of scrubbing it very hard.
Microfiber mop: In terms of cleaning abilities, microfiber is as effective as a sponge and is easier to clean.
Static mop: This microfiber cloth collects dust, dirt, and debris. Since microfiber can act like a static, the mop is called a static mop. 
Brush mop: It is a combination of a broom and a mop. As with a regular mop, it can be used to clean the floor, but with added bristles, it is easy to scrub stains out.
Get a FREE consultation to reduce your Facility Cost
Conclusion:
We at Arise Facility Solutions know what you need. That's why our team of floor cleaners come trained, equipped, and ready to take care of all floor cleaning needs that you have. For more information on our floor cleaning services, please feel free to contact us or to request a free quotation of floor cleaning services, book an appointment now.
Written By:
Subodh Tayde.