Get a FREE consultation to reduce your Facility Cost
Our facility is tracked by a lot of dust, mud, and debris throughout the day and so it should be kept clean on a regular basis. The facility becomes dull and so it requires to be kept clean in order to maintain the facility's appearance and keep it look attractive. Housekeeping Materials can be called the supporting tools used while cleaning. They are used by  professional  housekeeping services while providing cleaning services. Cleaning can be best conducted with the help of these housekeeping materials and equipment.
Here housekeeping materials are divided into two parts:
Non-electrical Equipment's
These are operated manually by the housekeeping staff for cleaning purposes; these materials don't require any sort of electricity.
Microfiber cloth:
Microfiber cloth is made up of such a material that absorbs minute dust particles quickly. These can be used for all surfaces and especially for cleaning glassy surfaces like window glasses, dining glass, mirrors, etc.
It absorbs the minute debris or dirt on the surface and gives a clean look to the surfaces. They can be used as dry cloth for dusting purposes or even in a wet form for cleaning. 
Brushes are of two types that are used while cleaning.
Soft brush: Soft brushes are usually used to clean surfaces that don't have any hard stains and don't require any hand wash as the dirt may be a kind of loose dust or stains that can be easily removed with a light brushing.
These brushes have flexible bristles that are placed close to each other and are used to clean dirt and debris from gentle surfaces.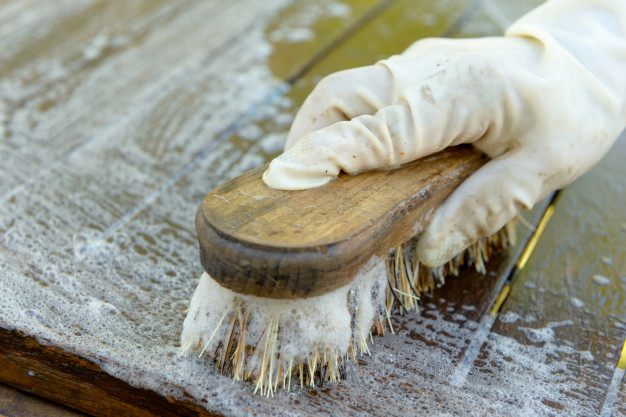 Electrostatic Dusters are just like the feathered duster used to clean the dust on the surface but the only difference is that a static duster uses principles of static electricity. This means that the static duster attracts all the dust from the surface like a magnet into its feather-like strands.
This helps in cleaning the surfaces which were difficult to clean earlier with normal dusting. Using a static duster for cleaning and dusting purposes will save much time and all the dusting chores will be completed easily, fast, and inefficiently way. The dust clings to the duster rather than just getting pushed away in the air like how conventional or old dusters do.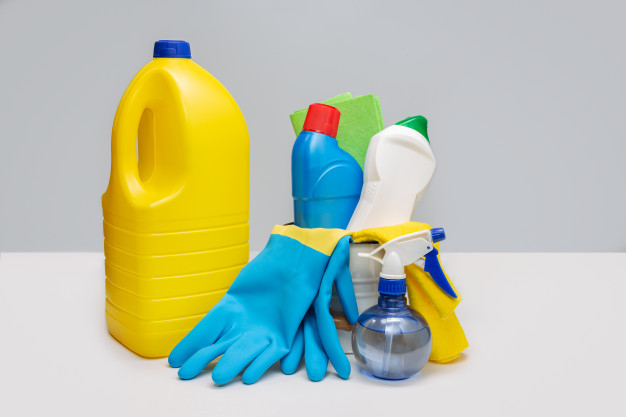 There are various types of liquids used by housekeeping companies for all their cleaning tasks. The liquids used for cleaning by professional housekeeping services are different from what we use daily on our own or the locally available ones.
This is because there are housekeeping companies that make use of eco-friendly chemicals for performing all their cleaning tasks. The liquids  they use are almost different for every sort of cleaning like: 
Marble cleaner liquid: The marble cleaner liquid is specially designed to clean the marble surfaces and give a shiny and new look to them. 
Toilet cleaner liquids: This cleaner is uniquely designed for toilet cleaning; they are designed in such a way that you get a clean and refreshing toilet and bathrooms without leaving any hard stains and bacteria.
Mops are used for cleaning surfaces that are wet or dry and so they can be classified into the dry mop and wet/damp mop:
Dry mop: Dry mop is used for cleaning dust particles from the surfaces; they are also used as a broom that has a long stick with  an attached plate at the bottom which has strands attached to it made up of microfiber material.
This dry mop does a bit more than a broom because it not just collects the dust particles but also deep cleans the floor surface. 
Wet mop: They are usually attached to a long stick with the circular plate at the bottom; it has strands that spread a wider area while cleaning, which makes it easy to clean faster.
The wet mops usually come with a bucket where the mop can be made wet and there is also a spinner system into the buckets that removes the excess water from the mop. 
There are various other wet mops designed to get the cleaning task performed easily and efficiently. 
Mops can be of two types, the disposal mops, and the reusable mops. The disposal mops are usually used for cleaning a more substantial area with a lot of dirt and mess as then after the use they can be disposed of. While reusable mops can be washed and reused after every cleaning. 
2. Electrical Equipment's
A vacuum Cleaner is a much-known cleaning device, and it has a suction pipe attached to it which puts pressure on the machine and removes all the dirt and debris from the area. Vacuum Cleaner is said to make the cleaning tasks easy and they are used by professional housekeeping services on a large scale.
Vacuum Cleaner removes all the minute dust particles from any surface. They are more useful when dust particles are in the corner where we won't be able to clean manually. It is perfectly designed to clean the dust from carpets and sofas. Cleaning services make use of high-tech vacuum Cleaners while performing carpet cleaning and sofa cleaning. They are the best solution for deep cleaning.
There are different types of vacuum cleaners used by housekeeping companies one of which is a wet and dry vacuum cleaner they collect spills and excess wash water from the surface and the water is collected in a tank through a pipe, which needs to be emptied once cleaning is done. 
It also collects dry dirt and debris, and so it is named a wet and dry vacuum cleaner. Housekeeping services mostly use them, where the cleaning is to be done for a larger area like big halls; banquets and these are in two sizes the one that has a larger tank is mostly used in industrial housekeeping.
It is said that floor polishing machines are more versatile as they can be easily used on any kind of floor, whether it is marble, wooden, or any other floor. Housekeeping companies use them for industrial cleaning and commercial cleaning services.
Floor polishing machines are excellent as it is said that once your floor is polished, then it can easily remove all the dirt from the surface just by mopping your floor daily, and there are fewer chances of settling soil or dirt particles soon. After polishing, the floor looks completely shiny and clean. These are usually used in showrooms, malls, and areas that require a polished and attractive look.
High Pressure Cleaning Machine:
A high-pressure cleaning machine is a fantastic and uniquely designed machine. It has a water outlet system or a nozzle at the bottom from where the water comes out; Creating a pressure that is too hard.
When the trigger is pulled the water mixes with the air and comes out in pressure. Professional cleaning companies usually use high-pressure cleaning machines for commercial cleaning. They can be also be used for garage cleaning and sidewalks. They are not suitable for home cleaning as the flooring could be damaged due to high pressure. They are used for commercial purposes where the flooring or surfaces are usually rough. 
Auto floor scrubber usually eliminates the need for mops and buckets. They are used for hard surfaces like cement, marble, ceramic, and granite flooring. The machine has can be filled with eco-friendly chemicals and it has the ability to make less usage of water, which makes the cleaning environment friendly and also saves water.
They are of 3 types: the upright scrubber (used for small and congested areas ranging from (500-000sq.ft), the walk-behind scrubber (used for large and open areas ranging from 1000-150000sq.ft), and the ride automatic scrubber (they are similar to walk behind scrubber cleans  areas like large gyms,  halls ranging from 15000-150000sq.ft and above).
Get a FREE consultation to reduce your Facility Cost
They are the best solution for sweeping the surface; they make sure that each and every dust particle gets collected into it through the circular movement of the sweeper attached at the bottom of the machine. It is best suited for industrial areas where the area is large and where the conventional brooms are not of much use. A walk-behind sweeper not just cleans the minute dust particles but also grabs the other objects like waste paper or another dry waste present on the surface.
There are a lot more high-tech housekeeping equipment's used for cleaning by professional housekeeping service providers out of which the main types of equipment are mentioned above.
By Snehal Said